We are experts in
Cyberbullying
Awareness
Action
Prevention
Words can kill! Rethink before you post!
about us
How we can help
CYBER B.A.A.P. is an anti-cyberbullying organisation with aim to provide guidance and counselling to victims, action against bullies and awareness training sessions for children, parents, educators, police, organisations and schools.
Our mission is to create awareness about the harmful effects of cyber bullying and offer counselling and guidance to the victims. Let them know they are not alone in this. We are there for them.
seek help
Reach Out to us. You are not alone!
If you are victim of Cyberbullying, let us help you
CYBERBULLYING
Cyberbullying is growing very rampant in cyberspace making it an unsafe place particularly for young children. Understand what is cyberbullying and its effects.
Workshops and Trainings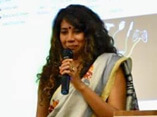 Speaker at "National Seminar on Child Online Protection" organised by UNICEF, Gujarat.
Read More
Awareness is the only way to prevent cyber bullying. Stay aware & stay safe is the mantra.