We are experts in
Cyberbullying
Awareness
Action
Prevention
Words can kill! Rethink before you post!
CYBER B.A.A.P. which stands for Cyber Bullying Awareness, Action and Prevention is a Mumbai, India based anti-cyberbullying organisation with the aim to help and provide guidance and counselling to victims of cyber bullying. We also conduct awareness and training sessions on cyber safety and digital hygiene for children, parents, educators, police, organisations and schools. The organisation is founded by well-known cyber psychologist Nirali Bhatia.
Our mission is to create awareness on cyberbullying and help children, parents and teachers prevent and deal with the harmful effects of cyberbullying and assist in providing counselling and guidance to the victims of cyberbullying and cybercrimes. We want the children to know that they are not alone in this. We are there for them.
Contact us to invite our expert speakers for a Cyberbullying Awareness Session.


CyberBAAP has a professional team of cyber psychologist and experts. I got to know about them online just after I was being harassed. The team responded to my mail quickly and noted down the details of my case. They were kind enough to keep my case anonymous. I was really freaked out but the experts counselled me and made me understand the modus operandi of these cyber harassers. They were highly professional at their work and their psychologist did an amazing work in calming me. They were a guardian angel and have saved me my career.
Anonymous (Name withheld on request)


Ms. Nirali was the exact help I needed. I feel more confident about taking further steps.
Sahitya Gali
Symbiosis Law School, Pune


Nirali ma'am supported in the best possible way and guided me for next steps. I reached out to her via twitter and soon she provided a means to contact her personally.
Anonymous (Name withheld on request)


Attended a webinar organised by Cyber BAAP, it was very insightful and all in all fantastic. They were highly knowledgable about the subject matter and yet communicated in an easy for all to understand manner. Highly recommended!
Nikhil Talwar
Cymasters Infosec Pvt Ltd
seek help
Reach Out to us. You are not alone!
If you are victim of Cyberbullying, let us help you
CYBERBULLYING
Cyberbullying is growing very rampant in cyberspace making it an unsafe place particularly for young children. Understand what is cyberbullying and its effects.
Workshops and Trainings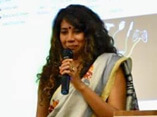 Speaker at "National Seminar on Child Online Protection" organised by UNICEF, Gujarat.
Read More
Awareness is the only way to prevent cyber bullying. Stay aware & stay safe is the mantra.